Parking
County Players does not have its own parking lot. We suggest that you arrive and park early. On-street parking is available in addition to several public parking lots. County Players is not responsible for parking tickets, towing fees, or damage incurred to cars of patrons. Please obey all parking signs and regulations.
For each performance, County Players designates a drop-off and pick-up area in the front of the theatre for patrons before and after the play.
Please do not park in these business parking lots:
The Ground Hog
2703 W Main St (Corner of Church St.), Wappingers Falls, NY 12590
Wheel and Heel
2658 E Main St, Wappingers Falls, NY 12590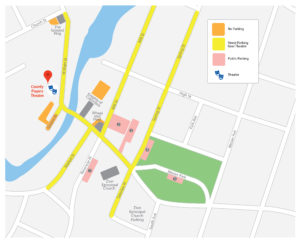 Parking Area Locations 
Area 1 Reservoir Place
Area 2 Mill Street Parking Lot
Area 3 Gold Star Way
Area 4 Spring Street by Mesier Park
Area 5 Mesier Park
A future parking area, Franny Reese Memorial Park, will be located on West Main Street just south of Church Street on the eastern side of West Main Street not far from County Players.