Spring Theatre Tour | April 16 | 1pm – 5pm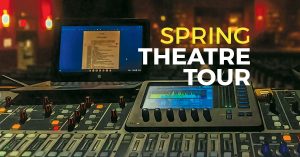 Join us for a free self-guided tour. A glimpse of the behind-the-scenes magic of County Players!
Sunday, April 16th | 1pm – 5pm
***Complete the tour and be entered for a chance to win a pair of free tickets to one of our Season 66 productions***
Whether a current audience member, subscriber, or just interested, the Board of Governors invite you to go behind-the-scenes to see how our productions come together. According to County Players board president Jeff Battersby, "We're excited to open our doors and 'pull back the curtains' for our Open House! Combining the talents of many volunteers is the only way we can bring our productions to life, and we want to share our stories and backstage spaces with everyone who witnesses the final results of our hard work and love of theatre."
Upon arrival, guests will receive a map highlighting stations of interest where they can learn more about the various production departments. During the self-guided tour, attendees will have an opportunity to interact with our dedicated volunteer personnel, ask them about the history of County Players and the Falls Theater, find out about day-to-day operations, and hear about plans for future productions.
On your self-guided tour start in the lobby and move into the theater to meet several volunteers and hear about various components of the theatrical process from the printed page to the lighted stage. Get to meet our resident technical volunteers to learn about the "theatre magic" that inspires the designer's choices bringing a director's vision to life. Tours will finally return guests to the lobby for information about upcoming shows and the option to sign up for various volunteer opportunities.
COVID-19 POLICY: Masks are no longer required when visiting the County Players Falls Theatre but they are strongly recommended. For info visit 
countyplayers.org/covid-19-policy/
.